Marble Falls Lakefest FAQ
Here are our frequently asked questions about Lakefest!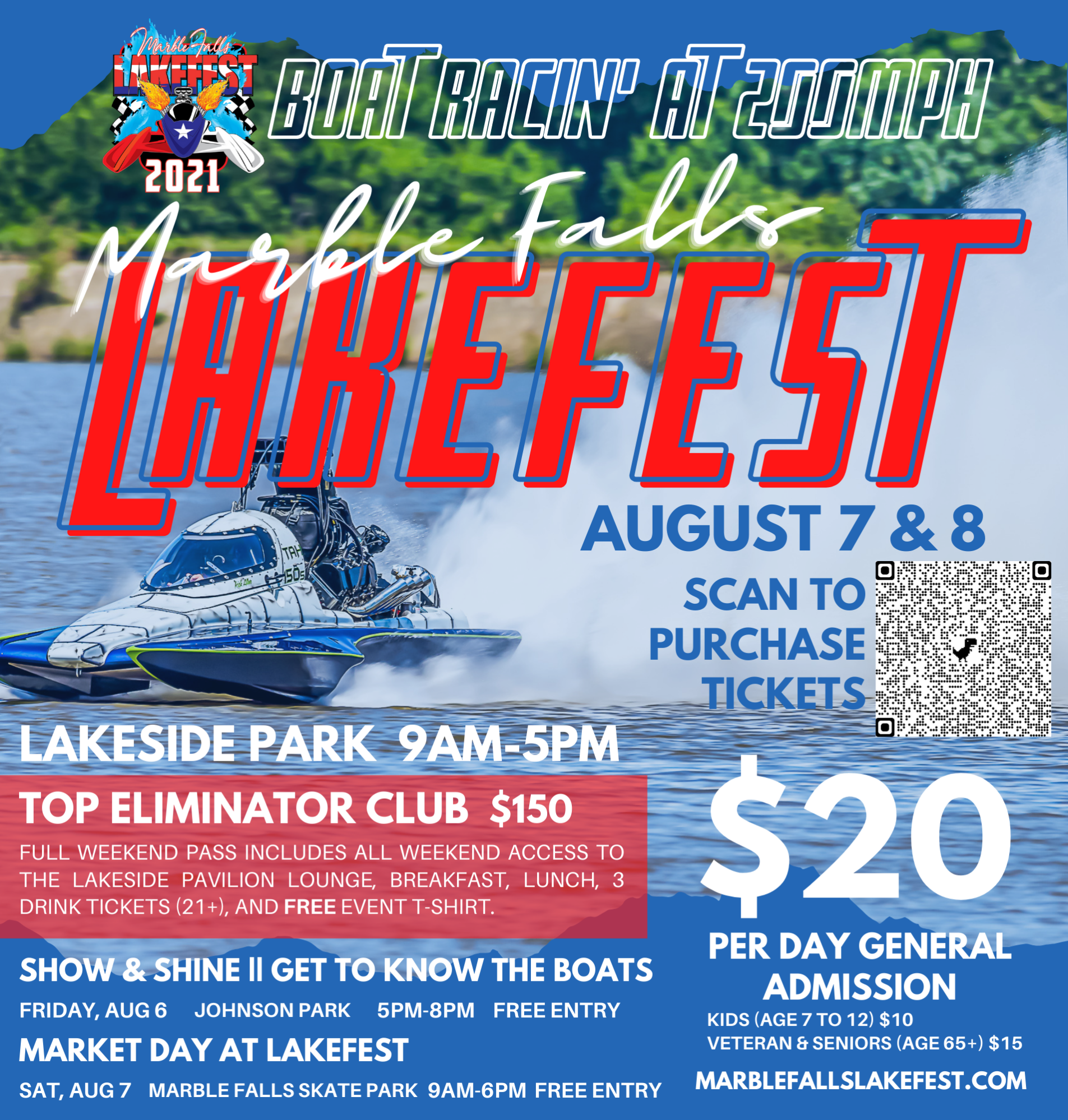 Q: Where can I purchase tickets?
A: You can purchase tickets at www.marblefallslakefest.com or at the event gates!
Q: Will the boat ramps remain open?
A: No, Johnson Park and Lakeshore Drive boat ramps will remain closed to the public for August 5th- August 8th.
Q: How many top fuel hydros have signed up?
A: Due to scheduling conflicts, we will not have top fuel boats this year, but we will have top alcohol hydros and top alcohol flats. Both still race at 200MPH!
Q: Can I bring an umbrella?
A: There are no umbrellas or canopies permitted in General Admission and Preferred Grass Areas. Shade will be provided around the event area. Lawn chairs and blankets are permitted.
Q: Are Pets Allowed?
A: NO Pets are allowed inside the event grounds during Lakefest. Please leave your pets at home as temperatures will rise above 95 degrees. If we notice animals left in your vehicle, animal control will be called.
Q: Will there be alcoholic beverages for sale?
A: This is a BYOB event, with cooler fees being $20. You can purchase these at the gate or online. There is no food or glass containers permitted in these coolers. The max size for a cooler is 48 quarts. Be prepared for security to check coolers and bags at the gate. We will also have coolers for sale outside the gates. Coolers for sale $10, Bag of ice $5, and Bear King will be on site selling their delicious canned brews.
Q: I can no longer make the event, can I get a refund?
A: There will be no refunds and no exceptions.
Q: What is included in a Top Eliminator Club ticket?
A: The Top Eliminator Club includes breakfast, lunch, snacks, 3 Free drink tickets provided for each of the two day event. No Outside food or Drinks inside Top Eliminator and no alcohol will be allowed to be taken out of the top eliminator club. Top Eliminator ticket holders will also have designated parking and transportation will be provided to and from the shuttle pickup area.
Q: Can I bring my golf cart?
A: NO personal golf carts will be allowed on the premises.
Q: Is handicapped parking available?
A: Handicap parking located at Marble Falls Library and 101 Main Street, and transportation will be provided via a shuttle to and from the designated pickup points.
Q: Will there be food available for purchase?
A: Food vendors will be located inside the gate, all accept Cash and Credit Cards.
Q: Can I buy tickets & merchandise with cards AND cash?
A: All merchandise and ticket sales at Lakefest will accept credit cards and cash. There will be a processing fee for cards, and there will be no ATM located at the site.
Q: What steps will I have to take to enter into Lakefest?
A: Waiver's must be signed prior to entering event as well as having your cooler and bag checked at the gate. Gates open at 7AM.
Q: Do I need tickets for the Show and Shine?
A: The Show and Shine in Johnson Park has free entry! The event takes place before the races on Friday, August 6 from 5PM-8PM. Spectators can get to know the racers and view their boats up close.
Q: Where are the different viewing areas on the event grounds?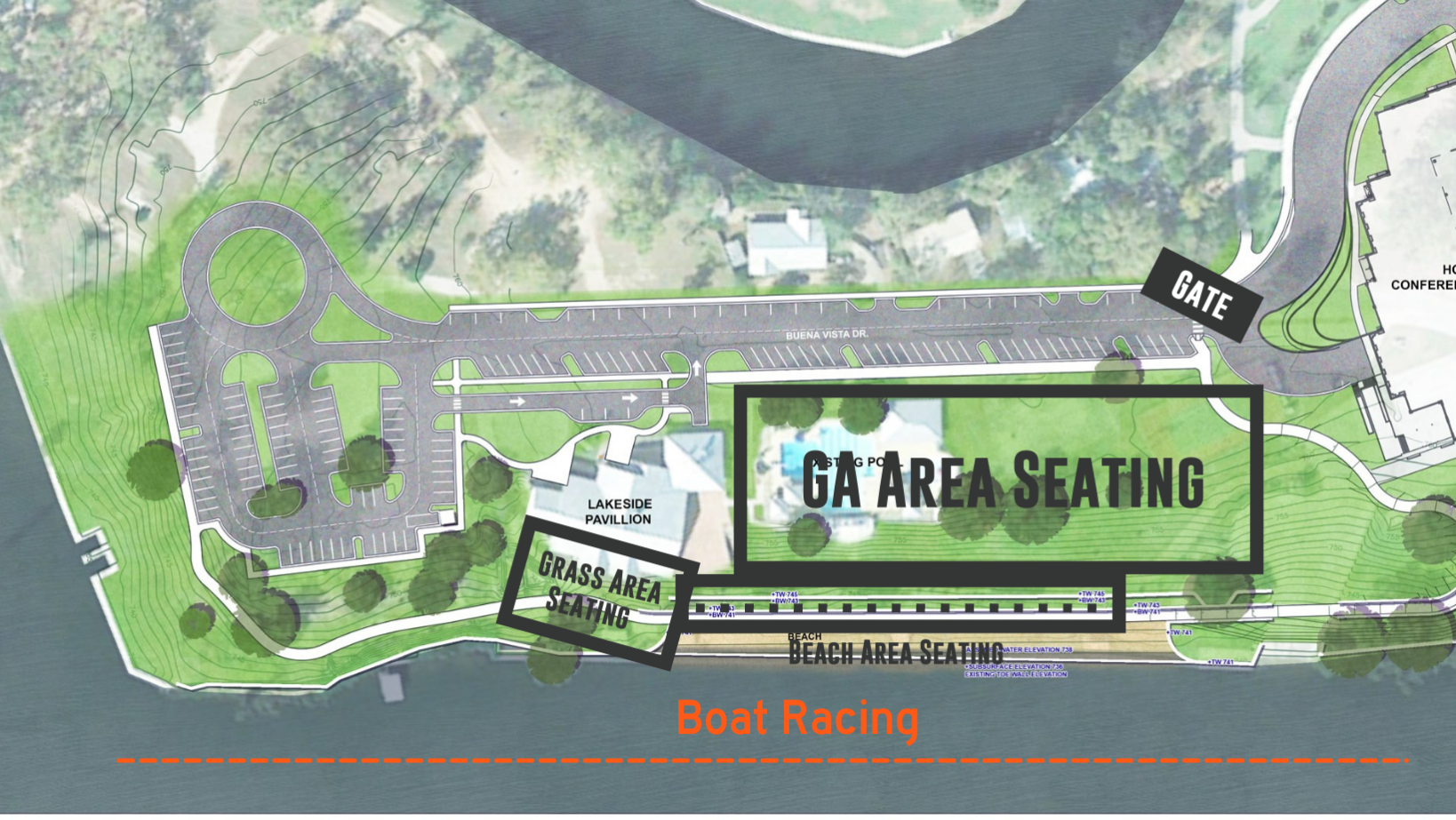 Q: Can I camp or RV on the event grounds?
A: Since 2017, our parks have been renovated. The RV and camping spots have been removed in Lakeside Park.
Q: Can I smoke inside the venue?
A: There will be a designated smoking area inside the event grounds, but smoking will not be permitted outside of this area.
Q: How can I sign up to Volunteer?
A: Sign up for a shift here: https://signup.com/go/DTOtSsY. Volunteers receive a free event t-shirt with free day admission for a two hour shift.
Q: Can I bring a wagon?
A: Wagons are allowed, but no bigger than 20"X20"X40"
Q: Where can I Park?
A: See Map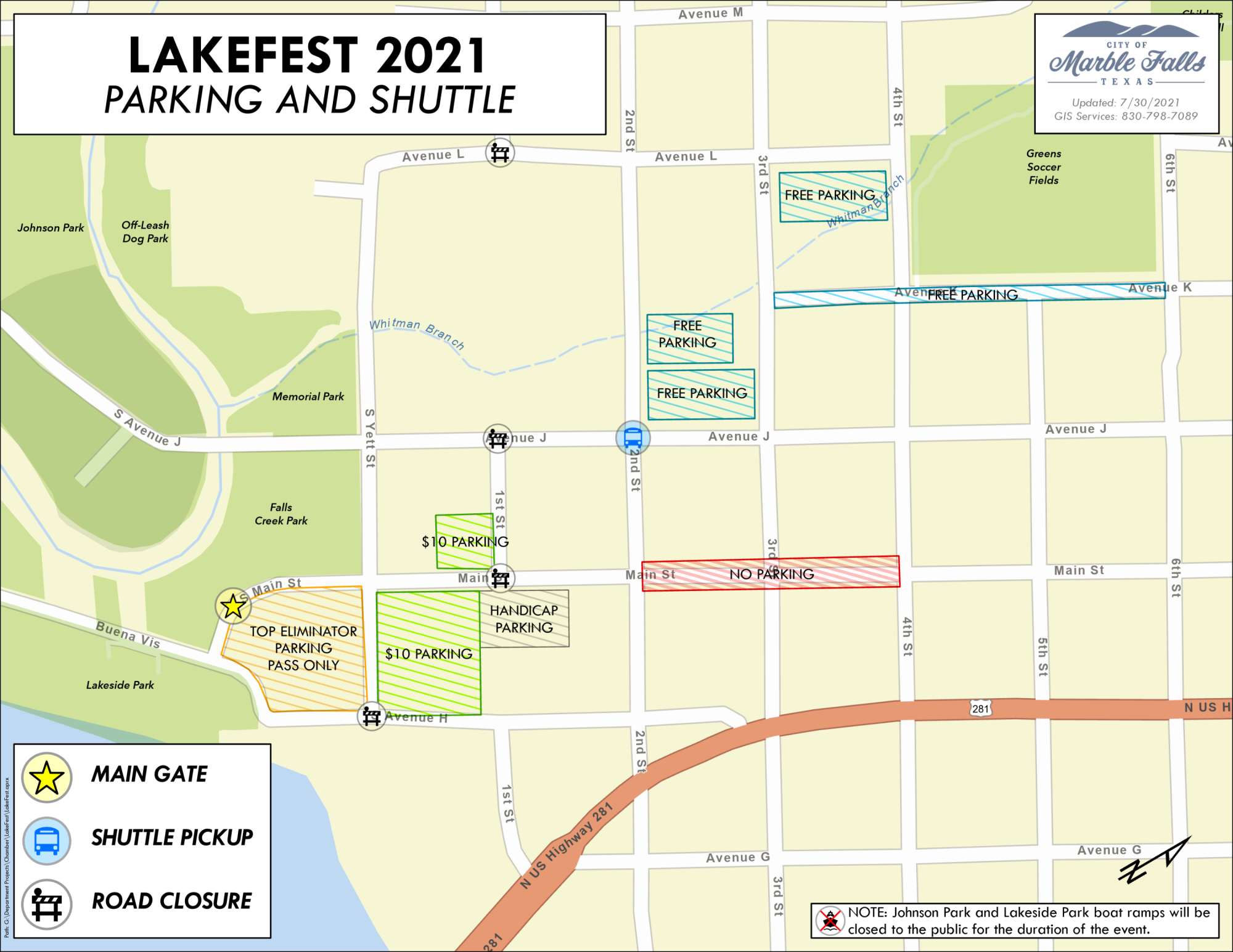 Q: Where is the Market Day?
A: The Market will be located outside of the gates for Lakefest, next to the Marble Falls Skatepark. It will be FREE to enter.
Q: Can I go in and out of the gates throughout the race?
A: Yes, you will have a wristband that allows you to re-enter the gates.
Q: Is the Johnson Park playground and walking trail closed?
A: Johnson Park will remain open to the general public, cars will not be able to drive through Ave J or park.
Q: Are the pits closed to the general public?
A: No, they will remain open throughout the event. They are located in Johnson Park.